Body Temperature & Face Recognition Camera
Next-Generation Touch-Free Products. Protect your business and employees with the necessary COVID-19 Security Products. Learn more about body temperature and face recognition cameras and how they can benefit your business.
This camera is specially designed and developed for face recognition and temperature measurement applications, featuring non-contact temperature measurement, high performance and reliability, fast recognition, and high accuracy rate. Based on our deep-learning algorithms, it combines temperature measurement, identity authorization, and access control.
It can be widely used in the entrances and exits of communities, schools, hospitals, scenic areas, hotels, shopping malls, office buildings, public services, and construction sites for body temperature measurement, identity authorization, and access control.
Features
With our full line of COVID-19 security and safety products, keep your personnel and customers protected.
8 inch LCD screen

High-accuracy IR body temperature measurement

Non-contact body temperature measurement

Human-sounding voice prompt

Real-time face mask detection

Face liveness detection technology distinguishing real faces from non-real face spoof attacks

Highly accurate face recognition using a deep learning algorithm

A stand-alone device, ready for networking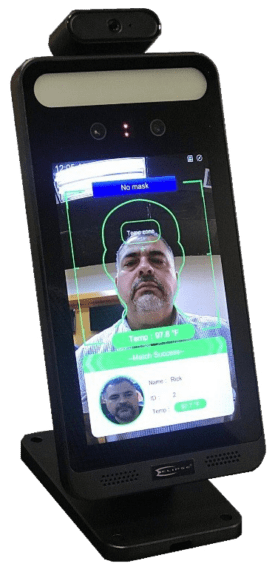 With the required COVID-19 security products, you can safeguard your company and its personnel.